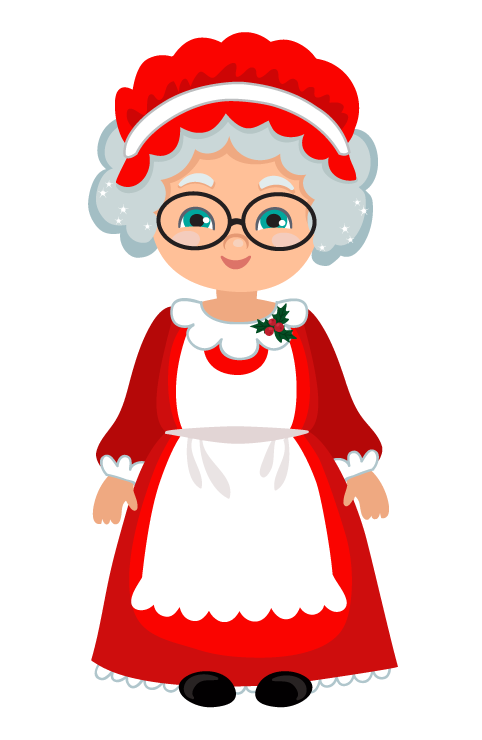 AGE: 227
HEIGHT: 5' 4''
WEIGHT: 180 pounds
FAVORITE COOKIES: Sugar Cookies
FAVORITE CHRISTMAS SONG: "Silent Night"
Mrs. Claus was born with the name Holly McBride in Washington D.C. on Christmas Day in 1792. When Holly was 30 years old, she was walking home from her grandmother's house one Christmas eve when a heavy snowstorm began to sweep over Washington D.C. Holly couldn't see where she was going and was scared she wouldn't make it back home.
She saw a small barn on the side of the road and decided to shelter from the snow. It was now after midnight and Holly was very cold and scared. After a few minutes, she saw a red glowing light coming closer to her. Right before her eyes, she saw a small reindeer approaching following by a big burly man. Holly realized it was Rudolph and Santa!
While flying through the town delivering gifts to the children, Rudolph's nose lit the ground below and Santa had spotted Holly huddled in the little barn trying to stay warm.
Santa led Holly to his sleigh where he gave her a big blanket and a cup of hot chocolate to warm her up. After Holly felt better, Santa dropped her off at her house.
After that night, Holly realized she had fallen in love with Santa. She loved how warm and jolly he was to all of the children, and how he went out of his way to rescue her from freezing in the barn that night. Holly began writing letters to Santa and she sent one to him every week that year. Before long, it was Christmas Eve and Holly decided to stay up all night in hopes of seeing Santa. When the clock struck midnight, she heard a loud noise on her roof and knew that Santa must be here. Soon enough, 2 big black boots were coming down her chimney and she was overjoyed to see Santa again. Santa wrapped Holly in a big hug, then got down on one knee and asked Holly if she would be his wife. Holly was thrilled and gave Santa a big kiss!
Santa and Holly got married on February 14th in 1824, and Holly has been called Mrs. Claus ever since. Santa Claus and Mrs. Claus have enjoyed 194 happy years of marriage. In 2024, they'll be celebrating their 200th anniversary!
Since then, Mrs. Claus has lived with Santa and his helpers at the North Pole. She helps keep Santa's workshop running smoothly, takes care of the elves and reindeer, and makes sure Santa's sleigh and magic suit are ready for the big day every year.
Mrs. Claus is 227 years old.
Mrs. Claus' favorite Christmas cookie is a sugar cookie. She has so many different cookie cutters and makes cookies in the shapes of all of the reindeer.
Santa and Mrs. Claus have been married for 194 years!