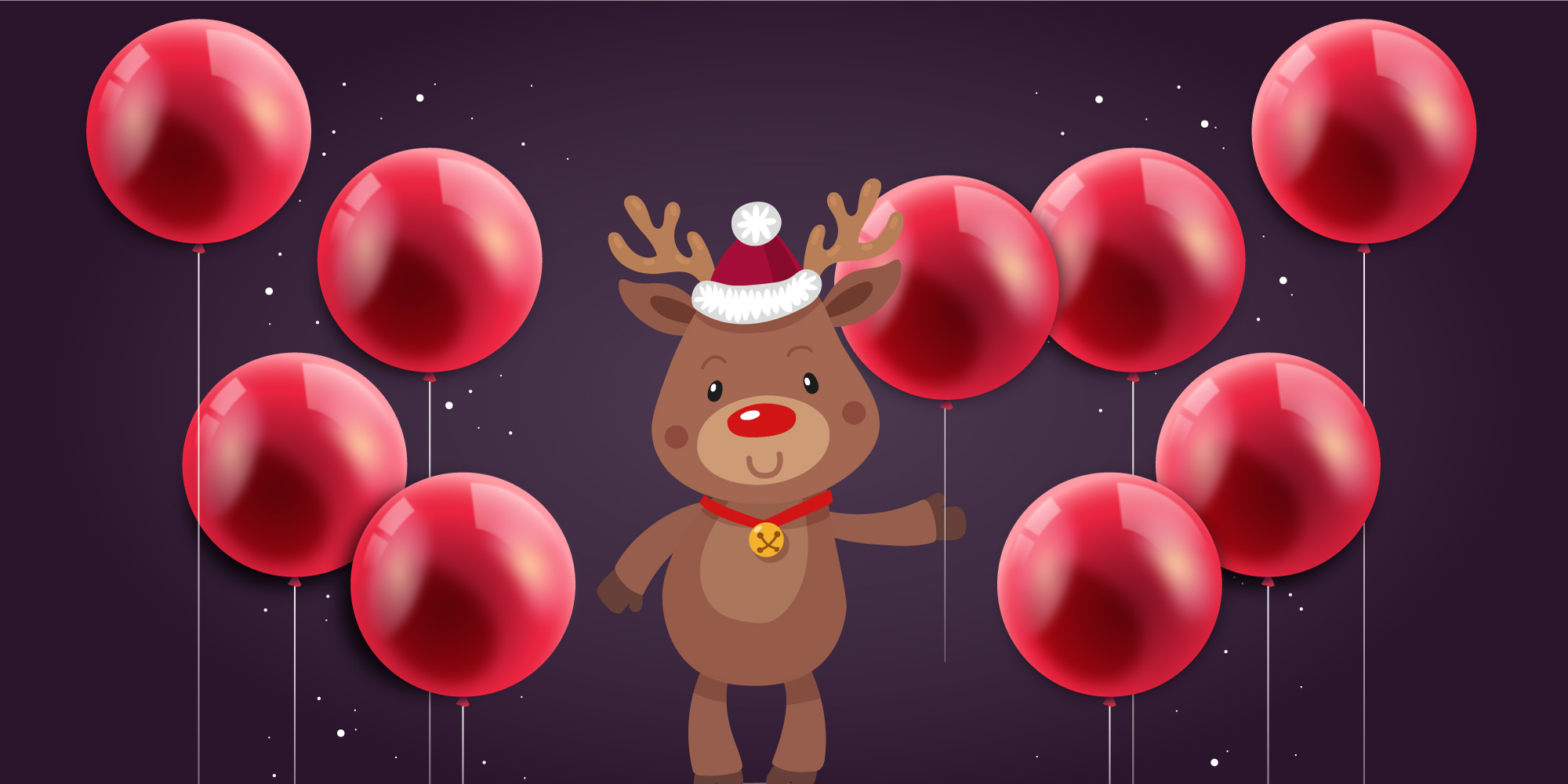 How Old is Rudolph the Red-Nosed Reindeer?
Most people don't know that magical Christmas Reindeer don't age like normal reindeer. In fact, it might surprise you to learn that one Christmas Reindeer year is equal to four whole human years! So, when kids as "How Old is Rudolph the Red-Nosed Reindeer?" there is actually more than one answer.
How Old is Rudolph the Red-Nosed Reindeer?
Rudolph was born in 1964, so that means he is 56 human years old. But in Christmas reindeer years he is only 14, meaning that even though Rudolph might be older than your Mom or Dad, he's still just a kid like you!
But how did Rudolph become the most famous of Santa's reindeer if he's just a kid? It all started on a stormy night, far away in the North Pole. Santa's elves were getting ready for Christmas Eve. You see, Christmas was only a week away, and they had to make sure that all the presents were wrapped and ready for Santa's sleigh. Not even a snowy blizzard could keep the Christmas spirit down. The elves sang and danced as they happily filled Santa's magical bag of gifts knowing that kids all over the world depended on them.
Getting Ready for the Big Trip
Santa and Mrs. Claus both kept warm inside their beautiful home. They didn't have children of their own, but they loved the children of the world and thought of them as their children. That's why Santa never got tired of delivering presents each year. He knew that those presents brought a lot of Christmas cheer to every child everywhere in the world.
On the night of Christmas Eve, Santa got ready to board his sleigh. It was led by eight reindeer who faithfully served Santa; Dasher, Dancer, Prancer, Vixen, Comet, Cupid, Donner, and Blitzen. Of all of Santa's reindeer, Donner was the only one who didn't have a family. Santa often felt sorry for Donner, because he wanted Donner to be as happy as the other reindeer. It was then that Santa planned for how he would help Donner find a lovely doe soon. But for that night, Santa had one thing on his mind, and that was to make sure all the gifts were delivered.
Delivering the Presents
Once the sleigh was ready, and all the presents were in Santa's bag, the eight reindeer took off into the night sky. Mrs. Claus and the elves all cheered for Santa as they saw his sleigh go higher and higher. "Ho! Ho! Ho!" said Santa as he disappeared into the night. The elves all sang Christmas carols to mark the beautiful occasion. Christmas Eve was an exceptional time for everyone at the North Pole since it was the moment they worked hard for all year, and they knew that it would bring a lot of smiles on Christmas morning.
Santa and his reindeer flew to all the homes in the world, dropping off presents. His list had so many beautiful gifts for the children — toy trains and dollhouses, action figures, and blocks. Santa's magical bag had pretty much every toy you could think of. Santa loved the milk and cookies that the kids left out for him each year. Santa always had a sweet tooth, so he would never leave without taking a few treats. He was happy that the children remembered him.
Heading Home
Once he dropped off the last gift at the last house on his list, Santa flew off back to the North Pole. He knew that his mission for the year was done and that in the morning, children all over the world would wake up and find their favorite presents underneath their Christmas trees. He got back to the North Pole just before sunrise, where he saw the elves and Mrs. Claus singing "Deck the Halls." Santa and his reindeer joined in and they all had a merry time.
Santa's reindeer were led away to their comfy stables where they ate their favorite treats — apples, carrots, beets, and lettuce. Just like people, reindeer have their favorite types of food. And reindeer love these treats because they make them strong and help them get back their energy after a night of hard work. So, the reindeer gobbled up their yummy treats and went to sleep, happy that they had helped Santa make Christmas a beautiful experience.
Donner Finds His Soulmate
Once winter had passed, Santa found a way to help Donner find the future Mrs. Donner. One day, Donner went out into the fields of the North Pole to practice his flying. While Donner was practicing, Santa used his magic to make a beautiful doe, named Elsa, run into Donner.
When Donner took a break, he looked up and saw the beautiful doe near him. He walked over to her, shyly said "Hi there. I'm Donner… I uh, I'm one of Santa's reindeers."
"I'm Elsa," she said looking away from Donner and blushing. They were both shy at first, but as time went by, they got to know each other. They would spend loads of time in the fields together, flying and singing along to their favorite songs. Santa was happy that he could help his friend Donner find happiness.
So, Donner and Elsa grew deeper in love with each passing day, and once the time had come, they asked Santa for his blessing to get married. Santa couldn't say no, seeing how happy they made each other.
Rudolph Makes His First Appearance
As Christmas got closer, Elsa found out that she and Donner were going to be parents. Once Donner had returned from his Christmas Eve mission, she told him the good news, and he was over the moon! He couldn't believe that he was going to be a dad. The good news spread, and Santa, Mrs. Claus and everyone at the North Pole were happy that Donner and Elsa were going to have a little reindeer of their own.
So, in the summer of 1964, Elsa had a beautiful little calf, and they named him Rudolph. Rudolph was a perfectly healthy little calf except for his shiny red nose that nobody could explain. Santa, in all his years, had never seen a red-nosed reindeer. He was happy for them, but he told them the bad news that Rudolph would never be able to pull his sled like Donner. Heartbroken, Donner and Elsa were worried that Rudolph might not fit in with the other little reindeer. Donner even covered up Rudolph's nose with mud to hide his special nose.
Rudolph Grows Up
Rudolph grew up in the North Pole, running and playing in the same fields where his parents had met. Some of the other reindeer made fun of his red nose, but that didn't stop Rudolph from saving Christmas!
One year, there was a blizzard so thick, that Santa was afraid he'd have to cancel Christmas. Santa was very sad, knowing that so many good boys and girls would be disappointed, until he remembered Rudolph's bright red nose! Santa realized then he was wrong about Rudolph and asked him to become the leader of his sled, using his nose as a guide.
So Rudolph, with his bright nose, saved Christmas and even today, 56 years after he was born, Rudolph continues to lead Santa's sleigh every Christmas Eve, helping to bring Christmas cheer to all the children of the world.
Rudolph leads Santa's sleigh.
Rudolph was born in the summer of 1964.
Rudolph's parents are Donner and Elsa.